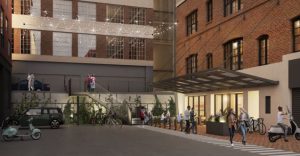 TCPM is providing complete Project Management services to Reliance Properties for the Rehabilitation and Addition to their 837 Beatty Street project.
The existing 1911 building of heritage significance will undergo major re-construction and upgrades with a four storey addition.  The existing heavy timber and masonry will be preserved with new heavy timber construction through the Mass Timber Demonstration Program.  The existing white painted façades will be restored and repaired to expose the bricks.
The top four floors will be purposed for office space plus an outdoor rooftop amenity space.  The ground and basement levels will see improved retail uses creating a total floor area of approximately 38,000 sq. ft. with a LEED gold green building standard being pursued for the additional floors.