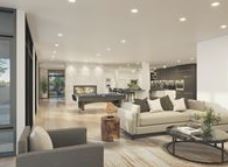 The LOMA, Coquitlam, BC
TCPM is currently providing project management services for The LOMA, Coquitlam, a 25-storey concrete framed high rise condominium and rental building – 122 condo units (including 58 rental units, 9 priority units and 6 below market units).
4 level parking garage, 275 resident and visitor stalls, 238 bicycle stalls. 6,6165 sf of amenities space and 2 roof decks totaling 6,644 sf.
Good quality exterior materials comprising metal panels with varying colours and slightly offset and angled to create the impression of logs, aluminum framing and brick work.
Scheduled for completion in 2023.