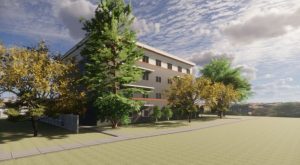 TCPM is providing complete project management services to the Atira Women's Resource Society for the Little's Place Housing project.
This modular design-build development will provide 56 modular housing units, providing additional new units of supportive housing to complement the existing Little's Place on King George Boulevard in Surrey, B.C. Consisting of 4 floors, 6300 Sq. Ft. per floor with elevator and ground floor spaces.
Atira Women's Resource Society was incorporated in 1983 and has grown from a single transitional housing program in South Surrey.  They now have more than 30 housing programs, two community daycares and multiple support programs located across the Lower Mainland.