Lisa Tildsley
September 16, 2021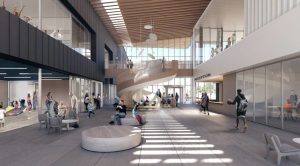 TCPM is providing project management services for the New Westminster Aquatic and Community Facility. The community facility will include a leisure pool, hot pools, 50m pool, fitness centre, two gymnasiums, multi-purpose rooms, childcare, third party lease spaces and administrative offices
The aquatic project has been carefully considered meeting both emerging leisure needs and existing competitive swim and teaching requirements to ensure that the legacy of Canada Games Pool is continued.
The range and flexibility of spaces provided will allow for a variety of different uses and users so that it will becomes a multi-generational facility into the future that is accessible to all.
In partnership with the Canadian Green Building Council (CaGBC) the project is aiming to help the community achieve a stronger, more sustainable future, and is striving for CaGBC Zero Carbon Building Certification. If successful, the facility will likely be the first aquatic facility to do so in Canada, thereby significantly decreasing greenhouse gas emissions.